After sell-out runs of Maverick Theatre Nick Hennegan's adaptation of Charles Dicken's classic tale, 'A Christmas Carol' in Birmingham and London over the last few years, the Maverick Theatre Company and Guy Masterson's Olivier Award-winning company, Theatre Tours International, come together to go back to the 'original'.
Original - because the first ever solo live performance of A Christmas Carol was given by Charles Dickens himself! He became famous and indeed, travelled the world, reading his own works. Maverick Theatre Artistic Director Nick Hennegan found an early script especially edited by Dickens for live performance and this is the script he has adapted.

Please sign up to our free mailing list if you'd like to know more
Guy Masterson -ACTOR
Guy is an actor, theatre director and Olivier Award winning producer. His lineage in the entertainment industry is remarkable; his maternal uncle was the actor Richard Burton. His father's second cousin was the Italian superstar Marcello Mastroianni! The two lines come together in him.
In 1982 he emigrated to the USA and, following stints in the restaurant business and as a carpenter, he studied drama at UCLA and started acting shortly after Burton died in 1984 in Hollywood. In 1989 after 5 years as a professional, he returned to the UK where he attended LAMDA. He then formed his own theatre company, Guy Masterson Productions. He soon made a name for himself with an extraordinary solo version of Dylan Thomas' 'Under Milk Wood' in 1994 which had never before been attempted. The show was an immediate hit and he has since given over 2000 performances all around the world. Of the top-ten globally-successful solo-shows of the past two decades, Masterson was involved in 6 as performer, director or producer. This culminated in his production of the Olivier Award winning 'Morecambe' in 2010. He is the most successful and award-winning independent theatre producer at the Edinburgh Fringe Festival having presented over 120 shows in 23 years. He also holds the box-office record for theatre - which he first smashed with his comedian riddled production of '12 Angry Men' in 2003; smashed again in 2004 with 'One Flew Over The Cuckoo's Nest' starring Christian Slater and Mackenzie Crook and then again in 2005 with 'The Odd Couple' starring Bill Bailey and Alan Davies.
His 2005 multi-award winning Australian production of '12 Angry Men' also holds the box office record for Drama down under. He credits his love of theatre and literature to his uncle Richard (Burton) who introduced him to the poetry of Dylan Thomas in 1981 while he drove Burton to Switzerland in a Mini Cooper-S... and he credits his love of cinema to the incredible influence of the three iconic stars, Richard Burton, Elizabeth Taylor and Marcello Mastroianni - an extraordinary legacy. Patrons of his company include, Dame Maggie Smith, Lord Melvyn Bragg and Robert Hardy.
He met writer and director Nick Hennegan at The Edinburgh Festival Fringe when Nick interviewed him for his radio show 'Literary London' on Resonance 104.4FM. Over a beer, they decided they got on rather well! You can hear Nick's interview with Guy here in Edinburgh. Scroll down to Episode LLPC 038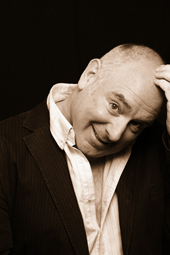 Guy Masterson and a christmas carol.
"I'm ashamed to say that over 50 years of life, I had not seen or read Dickens' classic Christmas Carol in any of its forms - including the Muppets!... and then, in 2016, Nick Hennegan of Maverick Theatre Company asked me to read it in front of 180 guests at the newly restored Fitzrovia Chapel in London and I was entirely enchanted - as they were. So I decided to commit it to memory and offer it as a new show in my particular physical storytelling style - playing all the characters myself!
It really is a great story and, in our commercial, consumeristic society, a timeless reminder of what Christmas is really about.
I am thrilled at the prospect of many a great festive night sharing this classic fable with audiences or all guises and ages!"
Guy Masterson
Nick Hennegan - writer and director.
Nick's first professional outing as a writer and director was a one-person version of Shakespeare's classic, Henry V - Lion of England. It received rave reviews at the 1992 Edinburgh Festival Fringe, spent a season in Stratford-upon-Avon and toured the USA, Ireland and the UK. His second Shakespeare adaptation, Hamlet - Horatio's Tale, featured Sir Derek Jacobi.
His domestic ghost story A Ghost of A Chance, won a Guinness Award through the Royal National Theatre and P.A.L.S., a tragicomedy about four friends growing up in Birmingham, attracted critical acclaim and record audiences in the city and was nominated for the Verity Bargate Award.
He established the Maverick Theatre Company with musician Robb Williams in 1994. Launched by the Lord Mayor of Birmingham, it was the city's first regular producing pub theatre.
He has written, produced and presented numerous radio documentaries including Images From Within and Susan And Friends (Sony Radio Award Winner) and The Pocket Guide to Rock (24 part series for Global Radio) and presented for numerous commercial and BBC radio stations in the regions and London.
He wrote and directed the short film Boy Girl Boy Bike with the help of ITV's First Cuts which was part of British Expo and has written numerous TV commercials for Birmingham Cable/Telewest/Virgin Media.
He won an erotic fiction award for a short story with Chrysalis Books (!) and has written theatre reviews and articles for numerous publications.
His acclaimed four-person adaptation of Dickens' A Christmas Carol enjoyed sell-out runs in Birmingham and London and he has now adapted and directed a one-person version with Guy Masterson. He edited Confessions of a Butcher Boy by Norman Raybone and released a stream of consciousness diary from 1997 about running a theatre company, How to Make A Crisis Out Of A Drama!
He wrote and directed the theatrical promenade tour 'The London Literary Pub Crawl' which is running in the West End of London.
Nick's working on a screenplay, George's 7th Dimensions; a play Harry The Second – which had a rehearsed reading in New York City; and a TV sit-com with fellow Brummie writer, Stephen Jackson. He's also working on Ron and Juliet – the story of two star-crossed publicans and MorrisDance! – a comedy musical. With Morris Dancing! (Probably). For International Dylan Thomas Day in 2015 he showcased seven scenes of a work in progress about Dylan called The Roaring Boys. He adapted a footballing Romeo and Juliet which was performed in Rep with his working-class comedy P.A.L.S. to great critical acclaims at the Edinburgh Festival. He occasionally writes about his plans at www.BohemianBritain.com He is also currently Course Director for the Maverick Academy, arranging lectures for new producers through the Academy site www.TheatreProducerTraining.com
He was nominated for a millennium Creative Briton award, has an M.A. in Creative Producing from the University of London and won a Society of London Theatre, Stage One bursary award.
Nick Hennegan and A Christmas Carol
"I've been living with Dickens' Ghosts since, as a small boy in Birmingham, I was given a young persons edition of the classic. Every Christmas, I'd faithfully read it, ensuring I finished the last chapter on 24 December. And I hope you will feel some of that magic. Storytelling is a powerful art and adding a technical dimension to it makes it even stronger, particularly when working with a talent like Guy Masterson - a towering storyteller with an international reputation."
Robb has always been passionate about creating music and started his first band at Art College in Maidstone whilst studying for his degree in illustration. That was during the heady days of Punk where he was "forced" into playing guitar, but his real love lay in the burgeoning world of electronic music so Robb quickly moved onto keyboards, performing and composing with several bands around the Midlands.

Robb's first foray into the world of composing for theatre was for Nick Hennegan's "Henry V - Lion of England", a one man adaptation of Shakespeare's classic play. Robb toured extensively with the show playing the music live during the performance. The collaboration proved highly successful and led to Robb and Nick co-founding the award winning Maverick Theatre. Over the years Robb has scored many productions for Maverick including "Hamlet – Horatio's tale", "A ghost of a chance", "Birmingham People's Company production of Henry V" and "Hancock's Finest Hour". Robb's reputation for being able to compose and arrange to tight deadlines led to regular work as a composer for TV advertising and documentaries.

Robb has now returned to his native Cornwall where he lives with his wife Natalie, children Jamie and Lauren and a scruffy Jack Russell called Harry. Robb divides his time between composing and arranging music, multimedia design and running the award winning Iconik Photography with Natalie.